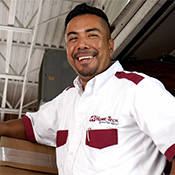 Employee owned Home-Tech is now seeking a Warehouse/Receiving Associate to become our new partner. Home-Tech leads in SW Florida in the in-home service arena, providing over 1500 appliance repairs and 500 air conditioning repairs a week. We have the most popular Service Agreement in SW Florida. We service 5 counties in Southwest Florida. Established in 1981, Home-Tech has locations in Manatee County and Lee County Florida. Specialized tools are provided.
Job Requirements & Qualifications
Transports incoming and outgoing materials to designated areas, utilizing appropriate tools to accomplish task. (Including but not limited to hand dolly, forklift, and pallet jack.)
Performs quality inspections on incoming and outgoing materials and products.
Sorts and places materials or items on racks, shelves, or bins according to predetermined inventory procedures.
Picks, packs, and ships materials and products.
Receiving of various products.
Conducts physical inventory counts; replenishes stock from back-up locations as needed.
Maintains a safe, clean working environment.
Performs other related duties as assigned by management.
Returning of parts to vendors.
Ability to work with minimal supervision once trained.
Commitment to excellence and high standards.
Ability to manage priorities and workflow while multi-tasking.
Flexibility and a willingness to work with constantly changing work duties.
Must have a clean driving record.
Must be PC/Windows literate. Daily work is done on Windows/Windows Office software.
ALL employees must pass a drug and background test for employment.
Warehouse experience is preferred but not necessary for employment.
Applicant must be able to continually work on their feet for the entire length of the work day.
Must be able to lift/push/carry items from 10-50 pounds daily/frequently.
Job is in a non-climate controlled warehouse, so the applicant must be able to handle the heat and or cold.
Employee Benefits
Since 1981 Home-Tech has been a pillar of stability and opportunity for those dedicated to serving our SW Florida community.
Pathway to Ownership
Health Insurance
Health Savings Account
Paid Vacations & Holidays

Advancement Opportunities
Generous 401K Plan
Long Term Job Security
Progressive Retirement Program
Employee Owned Home-Tech
Take a tour of Employee Owned Home-Tech and learn about the many wonderful benefits of joining our growing team!