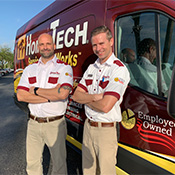 Home-Tech is well known in Southwest Florida for the training provided to our new technicians via our START program (Skills Through Applied Realistic Training). Our Mentors and onsite training facility provide the latest in appliance repair education. You will be trained in a simple, no-nonsense way, combining on-the-job training, as well as classroom study.
When you join our S.T.A.R.T. program, you can "Earn While You Learn." Learn a valuable trade and get real experience all while being paid to do so! Bypass expensive schooling and get right into a well-paying career today! You will make $18 an hour plus commission once the 6 months of paid training has been completed.
Average Highly Skilled Technicians – $74,453.47
Call 800-800-8356 or apply online today!
Mentorship
You will be assigned a qualified mentor
Mentorship will be a minimum of 8 weeks
Apprenticeship
Homework on various subjects
Will be quizzed weekly
Company vehicle upon satisfactory completion
Minimum 8 week program
Classroom
Training facility at Home-Tech
Learn electrical, refrigeration, disposal, water heater, etc.
Requirements
Must be local
Proven mechanical aptitude
Proven work references
Good people skills
Employee Benefits
Since 1981 Home-Tech has been a pillar of stability and opportunity for those dedicated to serving our SW Florida community.
Pathway to Ownership
Health Insurance
Health Savings Account
Paid Vacations & Holidays

Advancement Opportunities
Generous 401K Plan
Long Term Job Security
Progressive Retirement Program