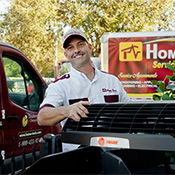 Employee owned Home-Tech is now seeking experienced lead residential HVAC Installers to become our new partners. Home-Tech leads in SW Florida. We have performed over 40,000 air conditioning installations. Seasonal bonuses are available. Specialized tools are provided. Salary is based on level of experience. Saturday and evening interview times are available.
Call 800-800-8356 or apply online today!
Job Requirements & Experience
Duct Work Fabrication
Low Voltage Wiring
Good Communication Skills
Decision Making
Self Motivated & Reliable
Positive Attitude
Employee Benefits
Since 1981 Home-Tech has been a pillar of stability and opportunity for those dedicated to serving our SW Florida community.
Pathway to Ownership
Health Insurance
Health Savings Account
Paid Vacations & Holidays

Advancement Opportunities
Generous 401K Plan
Long Term Job Security
Progressive Retirement Program
Employee Owned Home-Tech
Take a tour of Employee Owned Home-Tech and learn about the many wonderful benefits of joining our growing team!