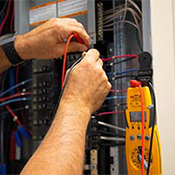 Employee owned Home-Tech is now seeking experienced Electricians to become our new partners. We service 5 counties in SW Florida.
Established in 1981, Home-Tech has two locations: one in Lee County and one in Manatee County. Saturday and evening interview times are available.
Call 800-800-8356 or apply online today!
Minimum 3 Years Service Experience
Good Employment History
Over 21 Years of Age
Punctual & Organized
Good Communication Skills
Clean Driving Record
Drug & Alcohol Free
NO Criminal Record
Employee Benefits
Since 1981 Home-Tech has been a pillar of stability and opportunity for those dedicated to serving our SW Florida community.
Pathway to Ownership
Health Insurance
Health Savings Account
Paid Vacations & Holidays

Advancement Opportunities
Generous 401K Plan
Long Term Job Security
Progressive Retirement Program
Employee Owned Home-Tech
Take a tour of Employee Owned Home-Tech and learn about the many wonderful benefits of joining our growing team!